Mossberg Patriot Predator 450
This Mossberg Patriot Predator rifle is chambered in 450 Bushmaster, and features a 20″ threaded barrel and black synthetic stock.
Manufacturer: Mossberg
Model: Patriot Predator
Caliber: 450 Bushmaster
Barrel Length: 20″
Twist Rate: 1:24″
Stock: Black Synthetic
Magazine Capacity: 4 Rounds
Barrel Finish: Matte Blue
Other Features: Spiral Fluted Bolt; Weaver-Style Base
Mossberg® Patriot™ Predator
PATRIOT BOLT-ACTIONS ARE LOADED WITH FEATURES, AND OUR NEW PREDATOR MODEL IS NO EXCEPTION. IT IS OFFERED IN FOUR CALIBERS, INCLUDING NEW .450 BUSHMASTER.
Attractive, Accurate and Affordable. These classically-styled rifles offer premium features at a great value: LBA™ adjustable triggers, fluted and threaded barrels, oversized bolt handles, spiral fluted bolts, top-mount Picatinny rail/scope bases and 4-round box magazines.
Introduced by Bushmaster and Hornady in late 2007, the .450 Bushmaster cartridge was initially an attempt to improve the ballistic performance of AR-15 rifles. It launched a .45-caliber, 250-grain bullet at a muzzle velocity of 2,200 fps, which was definitely a step up in performance compared to the 5.56 NATO's 55-grain bullet at 3,200 fps. At the time the .450 Bushmaster was introduced, not many folks hunted with an AR-style rifle, but things have certainly changed since then. A lot of rifle manufacturers have adapted their offerings, including ARs, bolt actions, and single shots, to chamber the .450 Bushmaster.
The .450 Bushmaster case is based on the .284 Winchester, which has a fat, 0.500-inch base, almost as large as the belted magnums, and a rebated rim that is the same diameter as the .30-06 (0.473 inch). The case body has a slight taper, and after some modifications, today's .450 Bushmaster has a case length of 1.700 inches, a cartridge overall length (COL) of 2.260 inches, and a maximum average pressure (MAP) of 38,500 psi. The round uses Small Rifle primers and 0.452-inch-diameter bullets. It was accepted by SAAMI.
Back in 2007 Hornady was the only source for factory-loaded ammo, but now Remington, Federal, and Winchester also offer it. And today there is a plethora of handloading components for it, including unfired cases, primers, powders, bullets, and reloading dies from a number of sources. Load data is plentiful, and the 2021 edition of the Hodgdon Annual Manual contains a special report written by Bryce Towsley that includes the .450 Bushmaster. I encourage readers to pick up a copy of that special publication if they want to get some good handloading tips.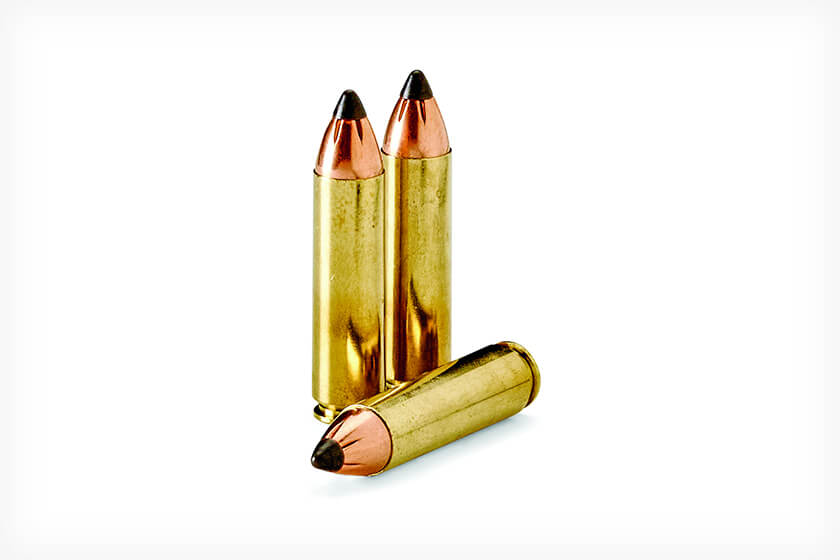 The Carbine
The new .450 Bushmaster Mossberg Patriot Predator carbine has a 16.25-inch-long, threaded barrel (11/16-24 TPI), and a thread cap is included. The barrel tapers from a diameter of 1.17 inches ahead of the receiver to 0.76 inch about an inch from the muzzle end. At that point it flares out to a diameter of 0.82 inch. Twist rate is one turn in 24 inches.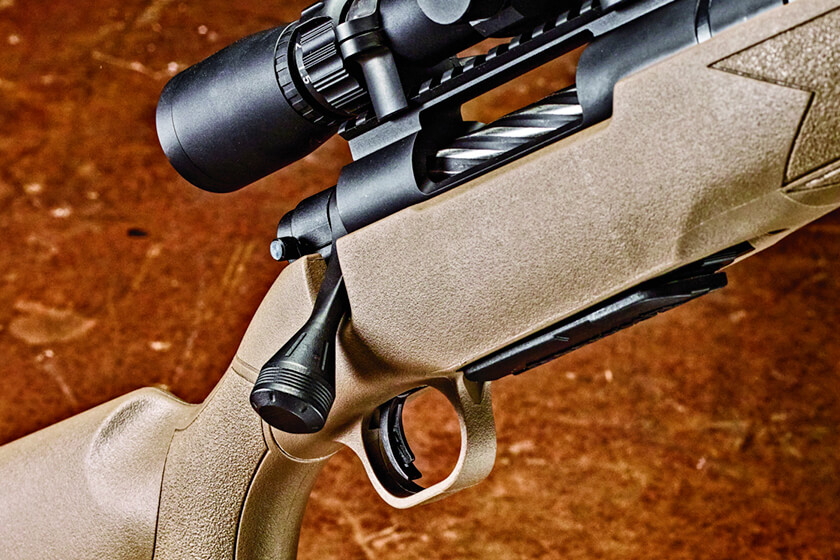 The synthetic stock is Flat Dark Earth in color and has a 1-inch-thick black recoil pad and sling-swivel studs on the fore-end and the buttstock. It has subtle texturing on the grip and the foreend. The metal has a utilitarian matte blued finish, according to Mossberg, but I think it looks more like matte black.
The push-feed bolt action works effortlessly, and lockup is courtesy of two lugs. The bolt body is spiral-fluted, and the bolt knob is large and checkered at the business end.